Welcome

24.10.2016
GM Event - October 25th
Dear Settlers,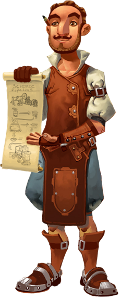 Join us for the Weekly GM Event this Tuesday, October 25th.
Zeus: 9:00am PDT/12:00pm EDT and 5:00pm PDT/8:00pm EDT
Ares: 9:45am PDT/12:45 EDT and 5:45pm PDT/8:45pm EDT
Five questions. Four winners per question. Free gems.
Do you have what it takes? Play now or read the rules.
Happy Settling!
BB_Aeyline

24.10.2016
Network Maintenance
Dear Settlers,
A special network infrastructure maintenance will be conducted today. Please be mindful of the following information when planning to join the game.
What: Network maintenance
Date: Monday, October 24th
Time

: Approx. 10:00am EDT - 2.00pm EDT

Affected: Uplay login may be slow or not working
Details:
During the mentioned time, the login may be unavailable. The game should not be affected at all, but please make sure you prepare your island as you may not be able to log in or you may be logged out.

Happy Settling!
BB_Aeyline

21.10.2016
Tell Your Tale - Event Winners

Dear Settlers,
The Excelsior has travelled to destinations far from anything your Settlers have ever heard of. In September, we asked you to write about her adventures! We received over 200 stories and decided to increase the amount of rewards :)!
Congratulations to the winners:
Julie3 (DE) & Thejollyone (UK)!
Read more details in our forum.
Thanks for your work and happy settling!
BB_Aeyline

17.10.2016
Clean Your Desktop Day
Dear Settlers,
Do you believe in the power of orderly folders, or is your desktop a cluster of icons?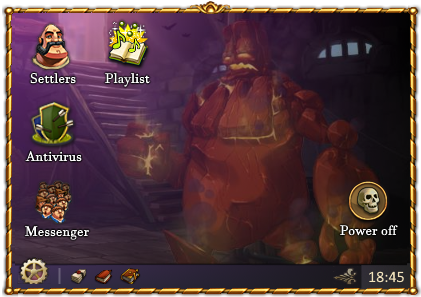 Join us in celebrating Clean Your Virtual Desktop Day by sharing your own desktop with the community, or by creating a Settlers desktop!
Read more tips, tricks and rules in our forum.

Happy desktop cleaning,
BB_Aeyline

10.10.2016
Halloween 2016 - Dev's Diary
Dear Settlers,
It's that time of the year again: Halloween is coming closer! Sonya Graham just reported seeing some ghosts in the distance. Your Geologists spotted Golems rowing up in tunnels below your island - a brand new "Supreme Golem" has been found!

We've implemented new content such as buffs, buildings and decorations in this year's Halloween event. Also, the way Pumpkin Cemeteries work has been changed.

More Adventures reward Pumpkins (via Refills). Find Pumpkins by sending Explorers out on a Treasure search, collect guaranteed Pumpkins on your island and play hard in order to get all 2016 Halloween Achievements.
Check out the Dev Diary for the Halloween Event 2016.
Changes compared to last year are highlighted for you.
Have a happy Halloween &
spooky settling!
BB_Aeyline

12.09.2016
Excelsior - Dev Diary
Dear Settlers,
Sonya Graham and her "Excelsior" are on their way to your islands!
The latest Dev Diary will explain the new features around the Forge of Truth:
Crystals, a new Resource
New adventure type called "Ventures"
Epic Raid "The Evil Queen" Venture campaign
Daily quest and daily login bonus changes
Lots of new buildings & more
Read the Dev Diary here.
Enjoy this new feature that will be deployed before the end of September! Keep an eye on the game update news for the exact date and time.
BB_Aeyline