Welcome

20.01.2015
GM Trivia this Friday
GM Trivia is back! Thanks to our moderators, we will hold a special event this Friday, January 23rd.
This week's trivia theme is "Name that tune".
Join us this for trivia at 1:45PM EST on Zeus / 2:20PM EST on Ares.
Four questions. Five winners per question. Free Gems.
Have what it takes? Play Now or Read the Rules
Happy Settling,
BB_Endesmor

20.01.2015
PvP Tutorial Video - by Zami
Dear Settlers,
The Forum-Spotlight awards the most interesting and creative contributions our players have decided to share with us. Thanks Zami for sharing your video with us and congratulations for winning 500 gems!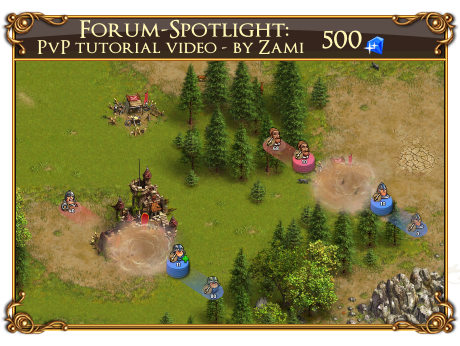 You can find Zami's contribution here. Zami is a member of the guild Ares Platinum Pythons led by Moonlime, on the US server Ares.
Happy Settling!
BB_Endesmor

19.01.2015
Status Update
Dear Settlers,
Today there is a bunch of information for you. Special Weeks have to be postponed, but luckily only the Barracks week is affected. Military Special Weeks remain as planned! Furthermore the international Community survey starts today!
Military Special weeks:
Remain active (until January 28th)
Barracks Special weeks:
Will be stopped today and started later (no date, yet)
New change log:
Next game update will contain many improvements
Guild Market Voting:
Starts today, details in our forums
Happy Settling
BB_Endesmor

19.01.2015
Guild Market Community Vote
Dear Settlers,
The offers in the Guild Market section will be changed soon. The communities all over the world are invited again to vote for their preferred items.
Please check out the forum for further details.
Happy settling!
BB_Endesmor

15.01.2015
Military & Barracks weeks (Updated!)
Important update (Friday):
The

special weeks

Barrack weeks will be stopped on Monday 19th, in the early evening, and will be processed with an updated version later. A new time span will be communicated once the decision has been made. We are sorry for the short notice change.
Dear Settlers,
Starting today, new limited offers are available in the game. Grab ressource packages and buffs for your military buildings in the shop.
Also, all barracks (new and old) productions are 10% faster.
The special weeks are available until January 29th.
Read more details in the forum.
Happy settling,
Your "The Settlers Online" team

14.01.2015
Christmas Event ends soon
Dear Settlers,
Removal Phase 2 has been postponed to Friday.
The removal of the event will take place on January 16th, early in the morning. The game will remain online.
Don't miss this last opportunity to collect all the rewards! Please note that Removal phase 2 will take place on January 16th.
Happy Settling!
BB_Endesmor

08.01.2015
Sneak Peek: new test version
Dear Settlers,
A new test server version will be available soon.
Basically, 2 new features will be introduced:
The "Mountain Buff" - gain new space on the home island
"Scenarios" - non military adventures
Click here and take a look at the Sneak Peek of the new game version!
What is a sneak peek?
Sneak peek is a brief news presenting some aspects of upcoming game updates. After finalizing the version, a corresponding developer's diary will be published.
Happy settling!
BB_Endesmor